Oriente Medio / Norte de África
Sepa algo más sobre los PTM y el trabajo que desarrolla el Movimiento Internacional de la Cruz Roja y de la Media Luna Roja en la región Oriente Medio/Norte de África. A continuación encontrará distintos recursos, como casos prácticos, fotografías, artículos y evaluaciones.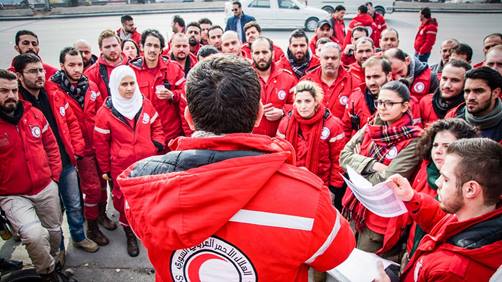 Resultados de la búsqueda
New
27 junio 2022
Lessons Learned on Cash and Voucher Assistance in the Greece Refugee Response
Organización:
Hellenic Red Cross
Document summarising key lessons from the Greece refugee response that can inform the potential use of CVA at scale for the Ukraine crisis, including useful technical learning from the early implementation of CVA in the Greece response.
Europa
Ukraine and impacted countries
24 mayo 2022
Guidance notes on Cash Transfers in Livelihood Programming – learning workshop in Dakar (Oct 2015)
This documents shares lessons learned on the context in West Africa, makes references to practical examples, and highlights details of cash transfer programmes for livelihoods. These guidance notes are intended primarily for those involved in the design and implementation of programs that include cash transfer components as part of livelihood support.
África
Cash and livelihoods
13 mayo 2022
CVA Newsletter – Nepal Red Cross (Jan-March 2022)
An overview of the latest updates on the Cash and Voucher Assistance(CVA) work of the Nepal Red Cross between January and March 2022
Asia-Pacífico
Programas de transferencias monetarias para emergencias
Aprendizaje
12 mayo 2022
Cash community for the Red Cross and Red Crescent Movement
Within the International Red Cross and Red Crescent Movement our work on cash is guided by the Cash Peer Working Group (CPWG), a body of technical advisers who collaborate on efforts to scale-up and improve the quality of cash assistance. The advisory Group, comprised of National Society leaders, helps to champion the cash agenda across the Movement. To find out more about the structure of this thriving cash community and how to get involved, you can download this Membership Pack.
6 abril 2022
Global Cash Forum Report
Organización:
British Red Cross
The Global Cash Forum, co-hosted by the Cash Hub and Turkish Red Crescent, was a virtual event involving a series of five Regional Sessions: Asia Pacific, Middle East and North Africa, Africa, Europe, and the Americas. This report provides a brief summary of the main discussion points at the Forum, from both the Regional Sessions and Global Dialogue Session.
África
América
Asia-Pacífico