Asia-Pacífico
Sepa algo más sobre los PTM y el trabajo que desarrolla el Movimiento Internacional de la Cruz Roja y de la Media Luna Roja en la región Asia-Pacífico. A continuación encontrará distintos recursos como casos prácticos, fotografías, artículos y evaluaciones.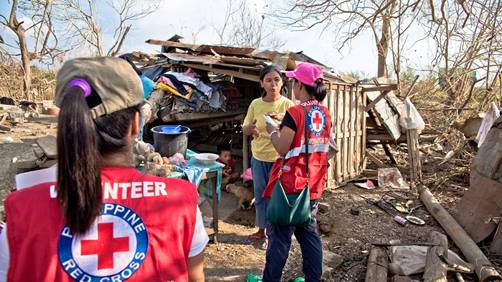 Resultados de la búsqueda
New
27 marzo 2023
Actions in Livelihoods: Technical training and conditional cash transfers
Organización:
Livelihoods Centre
The Actions in Livelihoods guidance provides key information on interventions for recovery, strengthening, diversification and protection of livelihoods in different contexts. This chapter focuses on cash transfers in the context of the 2015 Nepal earthquake.
Asia-Pacífico
Cash and livelihoods
3 febrero 2023
Asia-Pacific Cash and Voucher Assistance Annual Report 2022
This report aims to provide a snapshot of the accomplishments of Cash and Voucher Assistance (CVA) in 2022. Guided by the Asia-Pacific Cash Roadmap 2022-2025 below are key highlights on the CVA implementation in 2022 and the progress made to some of the key indicators of the roadmap.
Asia-Pacífico
Preparación de las Sociedades Nacionales en PTM
3 febrero 2023
Asia Pacific Cash Readiness Plan 2023
This document outlines the CVA Readiness Plan of the Asia-Pacific region, including cash preparedness initiatives projects
Asia-Pacífico
Preparación de las Sociedades Nacionales en PTM
5 enero 2023
Stories of Change: Cash stories from The Philippines
Organización:
Philippine Red Cross
Stories of Change: Cash stories from the Philippines Cash Working Group (PCWG) provides insight into the Cash Transfer Programming (CTP) of the Philippines Red Cross Society, particularly as a modality of assistance for disasters and emergencies.
Asia-Pacífico
PTM y COVID-19
Cash and livelihoods
27 diciembre 2022
A community-led livelihoods approach in flood-prone areas of Bangladesh during COVID19 pandemic
Organización:
Bangladesh Red Crescent
This case study examines how livelihood support provided by BDRCS and IFRC during COVID19 pandemic has strengthened the target families' income-generating activities. The families acknowledged that the whole process had helped them to improve their resilience and that they were confident that future disasters, such as floods, would not affect their livelihoods as they had before.
Asia-Pacífico
Cash and livelihoods