Learning from the Ukraine Crisis Webinar Series
Digital Solutions for Remote Registration webinar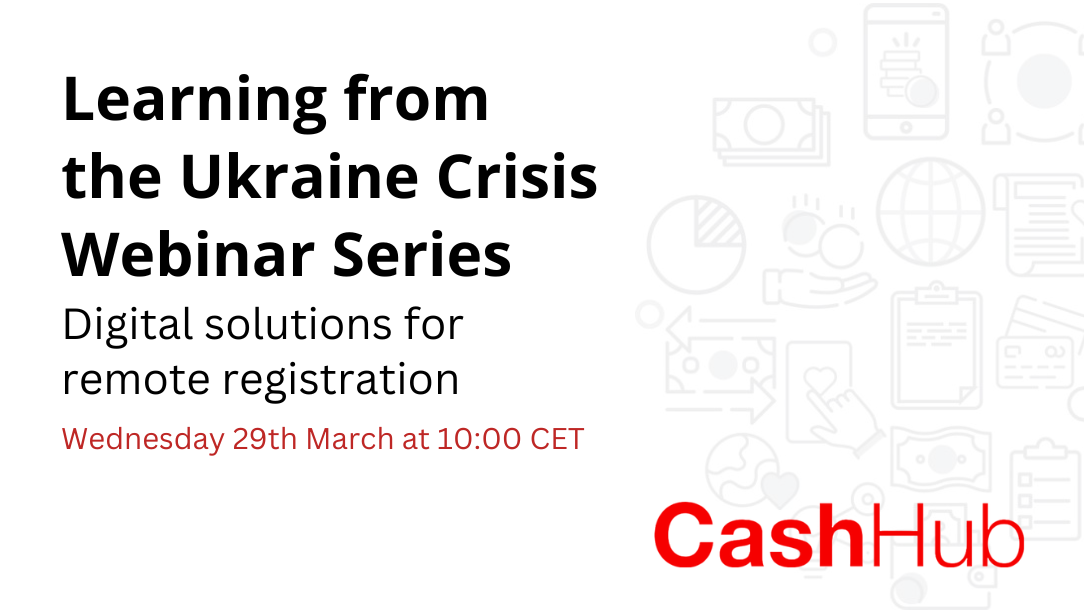 Click here to watch the Webinar recording and access the presentation
Register today for the upcoming Digital Solutions for Remote Registration webinar – from the Learning from the Ukraine Crisis Webinar Series hosted by the Cash Hub. The webinar will take place on Wednesday 29th March at 10:00 CET. The webinar will last 60 minutes and be delivered in English.
The use of digital solutions in line with Cash and Voucher Assistance (CVA) can support and strengthen many different aspects of a programme response, from registration to data management, to payment, and recipient communications. In response to the Ukraine crisis the IFRC launched a self-registration mobile app, enabled the remote registration and delivery of cash to thousands of households.
To date the app is being used support households in Romania, Slovakia, Poland and Moldova who have fled the conflict in the Ukraine.
This webinar will provide an opportunity to hear from Movement colleagues who have worked on the development and launch of the self-registration app, and discuss the opportunities and learnings tied to the use of self-registration tools with CVA with colleagues from both the IFRC and ICRC.
Speakers include:
Stephen Hagerich, CVA Coordinator, IFRC
Kanhong Lin, CVA Officer Romania & Moldova, IFRC
Natalie Gyles, CVA IM Coordinator Roving, IFRC Surge
Peter Mujtaba, CVA Technology Consultant
Maria Panasiy, Cash and Markets Specialist, ICRC
Etienne Gaboreau, Cash and Markets Specialist, ICRC
Please note the Zoom link will be sent to your email address after completing the registration.
If you have any issues please email: contact@cash-hub.org