RCRC Movement Counting Cash: Your Numbers Count - Delivered in English
RCRC Movement Counting Cash: Your Numbers Count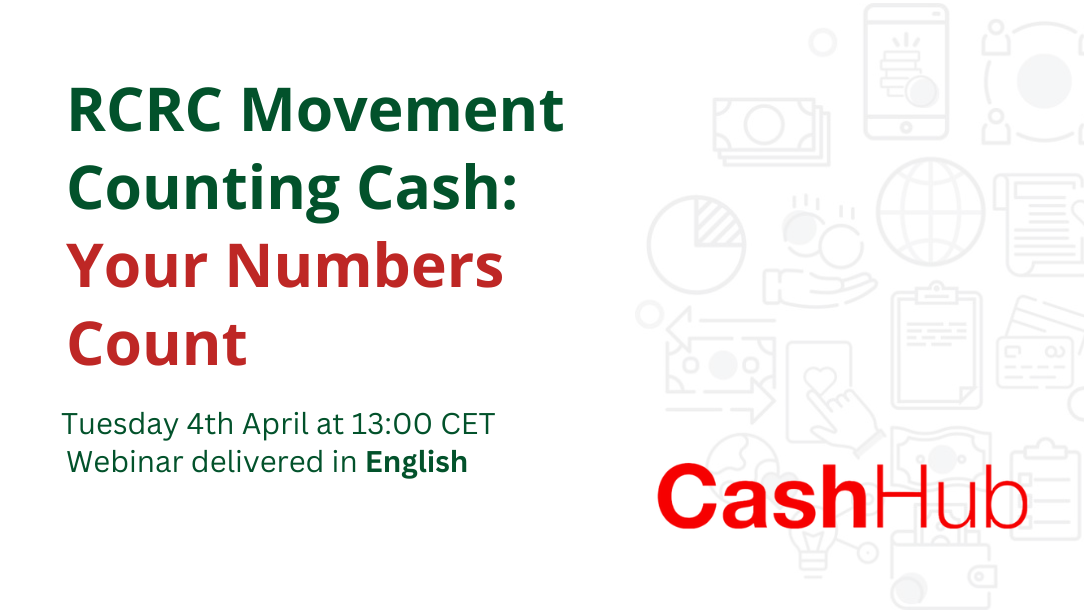 Register today for the upcoming RCRC Movement Counting Cash: Your Numbers Count webinar. The webinar will take place on Tuesday 4th April at 13:00 CET. The webinar will last 45 minutes and be delivered in English.
The Counting Cash is a Movement-wide initiative which seeks to measure and provide a complete picture of the amount of Cash and Voucher Assistance (CVA) being implemented within the Red Cross Red Crescent (RCRC) Movement each year.
The Cash Peer Working Group (CPWG) launched Counting Cash in 2018, and since then have continued to collect annual data on CVA within the Movement.
The Counting Cash Initiative plays a key role in the advocacy and implementation of CVA within the Movement, acting to:
Demonstrate the global reach of the Movement's CVA programming;
Identify and monitor the growth of CVA programming within the Movement;
Support Movement leadership in informed CVA decision-making.
Join this webinar to find out what Counting Cash is and how your National Society be counted in the 2022 annual data collection. Please note the Zoom link will be sent to your email address after completing the registration.
If you have any issues please email: contact@cash-hub.org