Using CVA in the design and management of micro-entrepreneurship programmes
Cash Hub and Livelihoods Centre Webinar, 5.7.23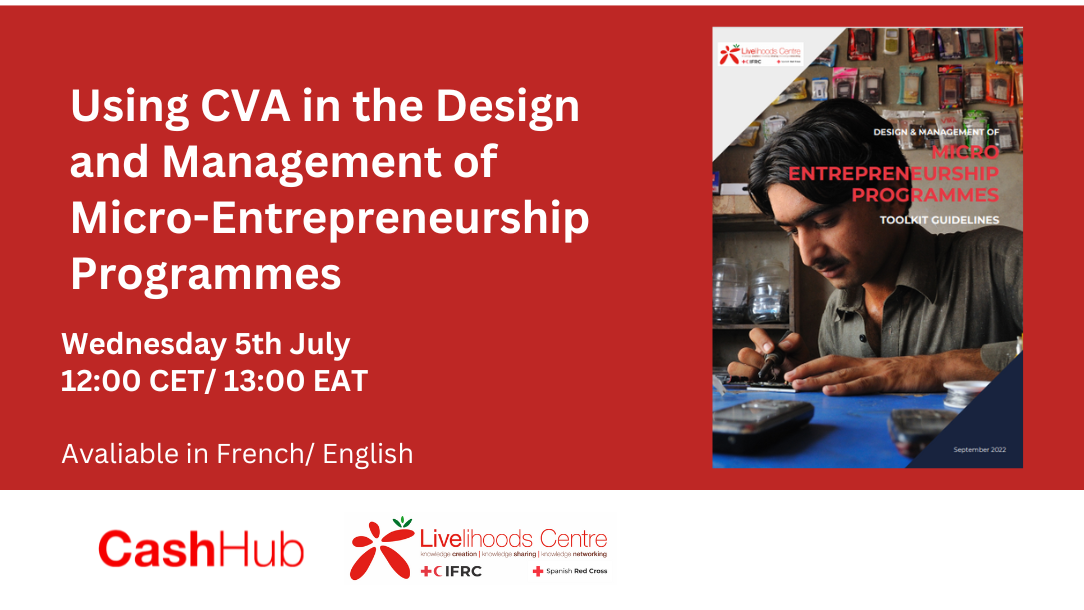 Register today for the upcoming webinar hosted by the Cash Hub and the Livelihoods Centre, which will focus on the topic of using CVA in the design and management of micro-entrepreneurship programmes.
The webinar will take place on the 5th July at 12:00 CET. It will last 60 minutes and be delivered in English and French, with speakers joining the panel from the Livelihoods Centre, Ethiopian Red Cross, Syrian Arab Red Crescent, and Cash Hub.
This webinar will showcase the Livelihoods Resource Centre toolkit for designing and managing micro-entrepreneurship programmes, focusing on how CVA can be used as a response mechanism within these programmes. The panel will walk through the background of the toolkit, provide practical examples of how it has been used to implement CVA and provide a dedicated time for audience members to raise their own questions and comments.
IFRC Livelihoods Resource Centre hosted by Spanish Red Cross
Speakers include:
Lucía Taboada Keller (LLH advisor at Livelihoods Resource Centre)
Ensermu Legesse (Project Coordinator, Ethiopian Red Cross Society)
Randa Daioub (Livelihoods Deputy Manager, Syrian Arad Red Crescent)
Andra Gulei (Cash and Markets Advisor, Cash Hub)
Please note the Microsoft teams invite will be sent to your email address after completing the registration.
If you have any issues please email: contact@cash-hub.org