February 26, 2021
Household Economic Security (HES) guidelines: technical Guidance for Assessment and Analysis
An updated version of the Household Economic Security (HES) guidelines has recently been launched by British Red Cross. To download this document, the analytical overview and the HES glossary click on the links below:
The guidelines and all its supporting documents, including tools for data collection, a HES report template and example reports in multiple languages can also be found on the IFRC Livelihoods Centre Website.
The HES guidelines are based on the Household Economy Analysis methodology and can now be applied to both rapid and slow onset emergencies, and also used to gather baseline information for livelihoods and resilience building interventions.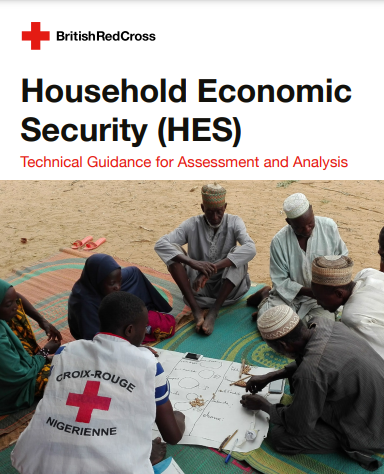 Breaking down Household Economic Security into 3 components (food security, basic needs and sustainable livelihoods) can help colleagues of the International Red Cross and Red Crescent Movement navigate the humanitarian and development landscape as part of their operational reality and mandate. The guidelines may also be useful for other actors involved in food security, economic security and basic needs and livelihoods assessments.