April 27, 2021
How partnerships and technology helped the British Red Cross reach the most vulnerable during COVID-19
In 2020, the outbreak of COVID-19 in the UK prevented many people from accessing their usual forms of financial support and drove many more into unemployment and severe financial hardship. In line with its mandate, the British Red Cross responded by launching a new emergency cash service: the UK Hardship Fund. The Fund was made possible thanks to a generous donation from a British Red Cross' partner, Aviva and the Aviva Foundation, with the aim of providing nation-wide, short-term financial assistance to people who are struggling to meet their essential needs.
The Fund offered a tool for British Red Cross and their partner charities to deliver short term direct cash assistance to people, all run through a centralised system at the British Red Cross. Designed for people with complex needs and no income, the Fund offered a one-off payment of £120 or a three-month grant of £360 paid in monthly instalments. As of April 2021, the British Red Cross has distributed £3.1 million in cash grants, supporting 13,016 people.
When you hear feedback, it is easy to appreciate what a difference £120 can make to someone's life […]. When you have nothing, no income or other form or assistance, this support can make the difference between whether you eat or not in a given day; the fund targets the most vulnerable people who are unable to access any other form of support.

Alex Ballard
Alex Ballard, the Hardship Fund Programme Manager, has offered his thoughts on the most important components of the Hardship Fund: the role of partnerships and the use of technology.
How have partnerships helped the British Red Cross to reach the most vulnerable?
One of the first tasks for the Hardship Fund team was to identify those who most urgently needed financial support: those for whom this Fund represented their only option to meet their needs. This led the team to establish an eligibility criteria that encompassed a no income threshold as well as certain indicators of vulnerability, such as an unstable migration status, deterioration in physical or mental health, or risk of domestic violence. To ensure that they could identify those who met this criteria across the UK, the British Red Cross turned to external organisations who were already working with many of these groups, creating a network of over 300 referral partners. 
Thanks to this network of partners, the Fund was able to reach a larger and broader range of people, reflecting the complex and wide-ranging impact of COVID-19 on financial resilience. The aim of the partnership approach was two-fold: to expand the reach of this Fund, and also to ensure that this short-term cash assistance did not stand on its own, and instead complemented longer-term solutions and casework relationships through these engaged partners.
In engaging with partners, the British Red Cross adopted a national approach through regional teams, who were able to build on their local knowledge and existing networks, as well as develop new, exciting partnerships and connections. Alex explains: "we relied on our regional approach to tap into existing local knowledge, which we were able to do well thanks to the long-term presence of BRC teams and the trust that has been built up through volunteers over many years.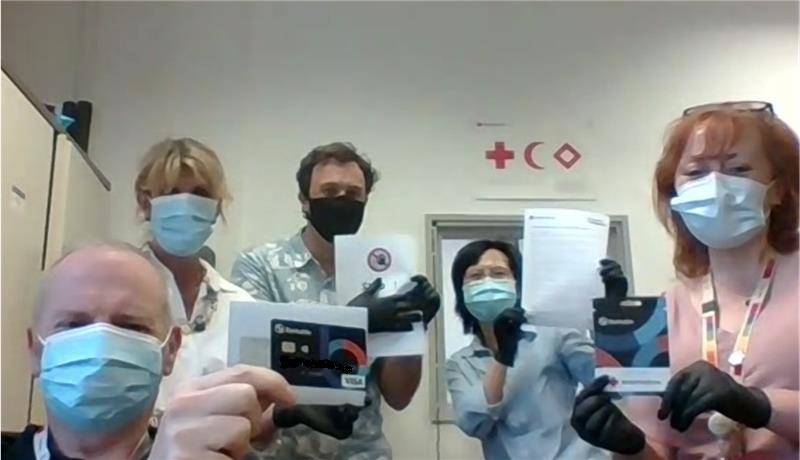 By connecting with new partners – local authorities, charities, food banks and community groups – this impact was multiplied, as we were able to connect with wonderful groups deeply involved in their local communities. The long-term value comes from this community connection".
For future cash programmes, Alex would recommend the partnership approach, but states it could not have been successful without significant time and effort invested into relationship management by regional Hardship Fund leads across the country, who work with partners to support the process and ensure the details of the Fund are explained accurately and uniformly across over 300 organisations.
To steer its vulnerability criteria and partnership approach, one tool used by the British Red Cross is its vulnerability index. This highlights which areas would be expected to have a greater concentration of people in need of support in the UK. The team used this to ensure they were working with organisations in the areas of greatest need, and to ensure a needs-led approach independent of geography.
Data management to scale up assistance during lockdown
Scaling up to safely distribute cash to over 10,000 people, through a process and team that had to work almost entirely remotely, was a unique challenge for the British Red Cross and required the use of secure and adaptable technology.
To do this, the Hardship Fund team collaborated with RedRose, who provided a ready-to-go data management system, and Bankable, who provided regulated cash cards. Thanks to a pre-existing service agreement between RedRose and the International Federation of the Red Cross and Red Crescent (IFRC), the RedRose system was able to be set up rapidly at the start of this response. Alex stresses how, while this technology is often used in less developed contexts, the Hardship Fund showed how RedRose can work everywhere.
Using this technology, the British Red Cross and partners would support somebody to undertake a criteria check and register for the Fund. On successful registration, this person would be sent a cash card, and use a mobile phone to verify with the Hardship Fund team, before cash is remotely uploaded onto the card. If verification is not accurate, an automated support system kicks in. In most cases, sending the card through the post is done on the same day of registration, and the card can be activated electronically, as soon as it has been received and verified. Alex raises the point that:
however clever your system is, there will always be somebody for whom this system doesn't work. What about someone who doesn't speak English so well or isn't comfortable with using text messages? It is important to learn and improve continuously.

Alex Ballard
For this reason, the team established a helpline manned by dedicated staff, and a troubleshooting system. Insights from this and feedback from card users and partners led the team to start offering the instruction letter in 27 languages, to facilitate a smoother process and support a better user experience.
Working with RedRose offered new insights thanks to the data collection opportunities, enabling Information Management experts at the British Red Cross to create dashboards and analyse gaps and trends, steering the development of the programme. Alex explains that these data tools offer a smart overview of quantitative data, that can help us raise the right questions clarifying that these insights can help us challenge our expectations and ensure we are reaching the right people at the right time. 
For the Hardship Fund team, the key question for improvement and evaluation has been whether the most vulnerable people have been reached.
We feel that we met the objective of helping even more people that we originally thought we would able to. Given our criteria, anyone we did support was effectively in extreme need of support.

Alex Ballard
Taking referrals from partners stops at the end of June 2021 and although the Hardship Fund will not be continued into the recovery phase, Alex feels that the learning it offers – particularly around about how to work with cash, how to use data and how to harness partnerships – could support stronger, integrated cash services in whatever comes next for cash assistance in the UK.
All feedback received has been incredibly positive and highlighted how the cash allowed people to choose the right assistance for their own needs. The stories we've heard from our incredible partners and service users are so inspiring and confirm the impact working together as a sector, using the right technology, and cash assistance can have to support people to prioritise and respond to their own needs at this difficult time.

Alex Ballard