The Cash Hub is delighted to celebrate the new Cash School 2022 Graduates!
This week the cash experts joined a final call to celebrate their achievements and hard work. Exposure to new contexts, new organisations and cash coordination mechanisms through deployments to Turkey, Philippines, Iraq, South Sudan, Madagascar, Nigeria, Pakistan and Sahel have all contributed to expanding practitioners' confidence and competence. Learning activities included working with expert mentors, real-time research projects, seminars, training, and accreditation.
Congratulations go to Chisomo Duncan from Malawi Red Cross, Daniele Wyss from ICRC, Ramesh Ghimire from Nepal Red Cross, Nabeh Allaham from Syrian Arab Red Crescent, Florence Umulisa from German Red Cross, Muhammad Iqbal from Pakistan Red Crescent and Tom Norman from NORCAP who will join the group of Cash School Alumni.
Normally the program requires an ex-pat to support cash activities. But now I am doing it – all the experience I have is based on the cash school! All the communication, the coordination.

– Cash School Member
About the Cash School
The CPDP aims to expand the ready pool of cash experts available to deliver humanitarian cash assistance, and to strengthen the community of qualified practitioners with up-to-date skills in all areas of cash assistance. Cash deployments are a key element of participants learning schedules, these deployments aim to enhance skills and confidence in implementing cash based assistance. Some deployments are run in partnership with NORCAP, with practitioners accessing deployment opportunities from a range of humanitarian agencies. You can read more about the programme here
Watch the video below to see highlights from the programme
This short survey, created by CALP Network, is designed to collect the views of people whose work touches on humanitarian Cash and Voucher Assistance (CVA), in relation to issues such as scaling CVA, quality, risk and multi-purpose cash.
The survey is available in Arabic, French, English and Spanish and should take no more than 15 minutes to complete. The data gathered will inform the next State of the World's Cash report which will be published in 2023.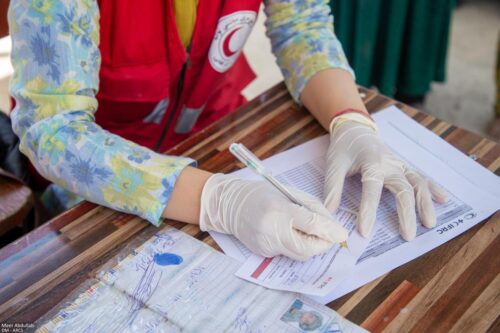 The current crisis in Ukraine has shocked us all and resulted in a huge outpouring of solidarity and support. Rightly as humanitarians, and as custodians of the Fundamental Principle of humanity, we want to deliver assistance that supports people's dignity and choice at the scale and speed that is needed.
Now more than ever, perhaps it is easier for us to understand what a cash first or default approach is. Markets are functioning across the crisis and all the countries affected (except for some areas of eastern Ukraine) and more importantly people are used to a cash economy. So why have we not been able to deliver cash within hours linked to well-established safety nets systems for those fleeing their homes? Why have we continued to deploy a goods-first approach?
We have chronically under-invested in humanitarian cash delivery; in National Societies, whose leadership needs to continuously commit to the organisational change required, deepen existing partnerships and ways of working with external stakeholders; in the systems and prepositioning of cash to enable strong and capable cash ready first responders; in the surge system, which provides support when national capacities are overwhelmed; and in the people and competencies that are needed.
For too long we have tried to adapt our existing systems for in-kind to cash, because cash 'is easy'; because we focus on sectoral outputs rather than outcomes and impact; and because ultimately, we are failing to be driven solely by people's needs and preferences. We need new operational models fit to deliver cash that place people at the centre and we need to shift investment to enable this to become a reality.
The Movement response is starting to deliver emergency cash in the surrounding countries, which requires simultaneously building National Society commitment and competence, data sharing protocols with a range of external stakeholders, self-registration applications, community messaging and feedback mechanisms as well as how to physically deliver cash into people's hands, of course. We should be proud of this as it is a testament to those cash experts (well done BRC for supplying 14 such experts to date!) who have been advocating to their National Society peers to take up a modality that is new for the majority, at the same time as coordinating externally and internally and designing and implementing the response. The picture in Ukraine is somewhat more complicated.
Learning will start to be captured in real time but let this be a lesson to all of us that we must commit to do better. We need to build a new way of working that enables prepositioning of National Society leadership commitment to integrating Cash & Voucher Assistance (CVA) and sustainable capacities and a fit for purpose surge system that can and will deliver cash within 48 hours to, say, 500,000 families. To do anything less would mean we are not learning the lessons right in front of us.