In this section you will find information to get an overview of what the RedRose ONEPlatform is and the solutions and functionality it aims to provide. It describes the opportunities and benefits for National Societies looking to improve data management systems and competencies to allow for the scale-up of cash and voucher assistance.
---
Background
In 2017, the Cash Peer Working Group Group (CPWG) – the technical cash specialists of the International Red Cross and Red Crescent Movement – identified the critical need for data management for both response and preparedness. Based on functional requirements, a systematic evaluation of out-of-the-box data management systems was undertaken and RedRose was identified as meeting the needs of the Movement for cash.
The IFRC subsequently conducted a competitive tender in which RedRose was selected, not just based on functional fit but also after evaluating technical, legal, and financial fit. Due diligence was conducted to ensure confidence in the system, enabling the IFRC to recommend it to it's members.
A Global Framework Agreement between the IFRC and RedRose was signed in 2018. Members of the Movement are able to join this agreement to benefit from global discounted rates and negotiated terms and conditions.
In 2018 the Movement piloted RedRose in emergency contexts in Viet Nam, Philippines, Kenya, Pakistan, Lebanon, Nigeria, Ukraine, and Somalia. The piloting of RedRose demonstrated increases in efficiency and scale, while also demonstrating improved quality of programs through segregation of duties, transparency and accountability with audit logs and strong security features to safeguard sensitive beneficiary information. A multi-country learning review of applications of RedRose in Viet Nam, the Philippines, Kenya and Pakistan was conducted in 2018, and is available here
Video's – Here is the link to the playlist with all the RedRose System videos:
What is Data Management?
Cash programmes collect, store and use data throughout the programme lifecycle. This includes personal data (the registration of people affected by crisis), financial data (the allocation of funds and the distribution of cash) and programme data (the status of the programme).
To understand what Data Management is, it helps to also define the other two closely related areas of Data Collection and Payment mechanisms for cash programmes:
Data collection – Collecting data about an individual in crisis places them at the centre of decisions that are then taken related to targeting for cash programmes, cash allocation and ongoing monitoring. Data collection is the gathering of data that provides the information from which these decisions are made.
Data Management – Data management is the practice of cleansing, collating, storing, updating and applying data in a structured way to facilitate data reuse and generate key information for cash programming and decision making. In other words, looking after the data that has been collected and turning it into usable information for key decision making and monitoring throughout a cash programme.
Payment mechanisms – Once decisions have been taken about who will receive cash, when and how much they will receive, the next step is to carry out the actual cash distribution (envelopes, bank transfer, pre-paid cards, mobile-money etc.). There are numerous methods for distributing cash, all of which fall under the heading of payment mechanisms.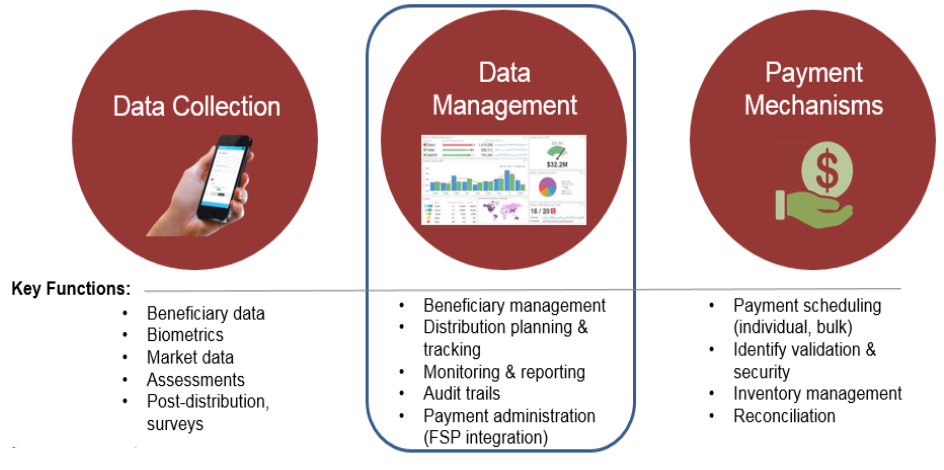 Click here to download an overview presentation on cash data management from 2019.
What is RedRose?
RedRose is a data management platform that integrates with data collection tools such as ODK/Kobo to manage data (e.g. beneficiary details, market price monitoring, post-distribution surveys) and with payment mechanisms (e.g. mobile money, remittance, e-voucher) to distribute cash assistance and enable automated reconciliation in a secured and auditable manner. The platform provides monitoring and reporting capabilities and can also be used for other assistance types such as in-kind and services.
The diagram below, shows how RedRose can be used as a fully integrated data management system that supports every step of a cash registration and distribution process: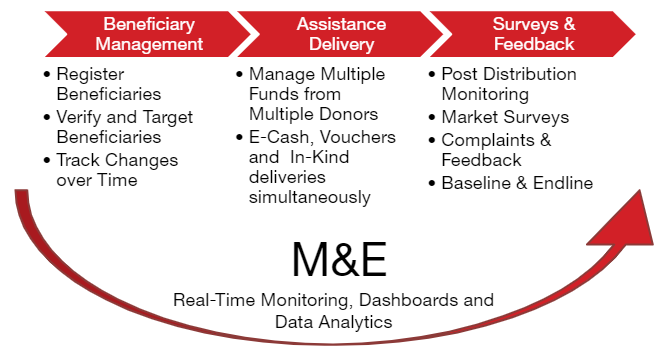 RedRose can be used by the NS in their cash preparedness to develop data management competencies and to prepare for emergencies. Beneficiary data from risk prone areas could be setup and updated (including pre-existing vulnerabilities and contact details). Distribution plans could be prepared based on different scenarios, and Financial Service Providers integrated to allow for fast disbursement of cash.
During an emergency, RedRose could be used by NS to manage data for the response and recovery. It could also be used for bilateral programmes with other partners not just IFRC. In addition to being a programme management tool, RedRose can be used to strengthen accountability and transparency through audit and reporting functions.
What are the Opportunities or Benefits of using RedRose?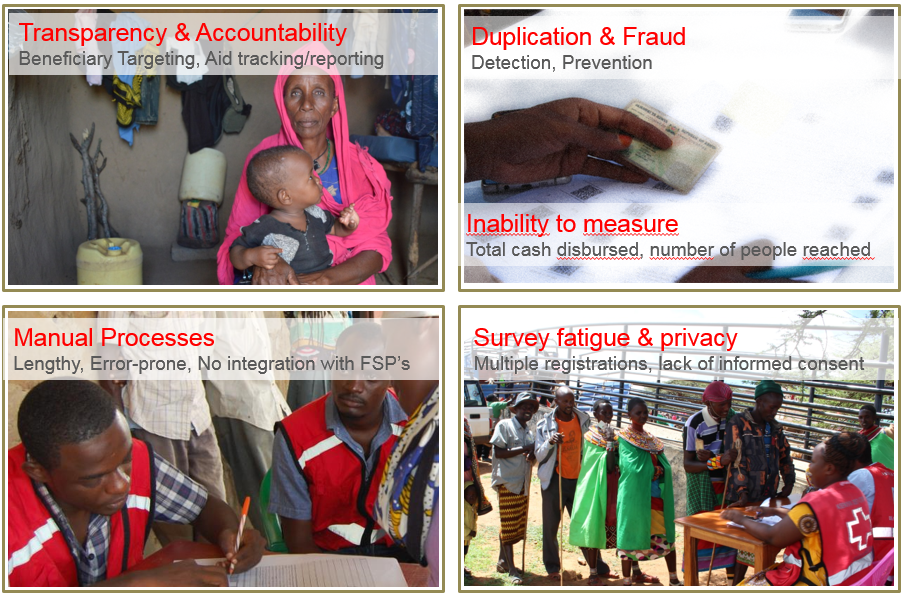 The diagram above shows some of the common challenges related to data in an operation and where a data management platform helps address.
The RedRose data management platform processes data securely to ensure quality programming (for both cash and in-kind). It supports decision making through its analytics and reporting capabilities, improves auditability and accountability, facilitates scale-up of operations, increases speed of operation. The use of the system increases efficiency and eliminates reliance on error prone, labour-intensive, paper-based manual processes.
How does RedRose ensure data protection?
There are multiple layers for data protection put in place when using RedRose. On the technology itself, there are levels of encryptions both when data is at rest and when data is being transmitted from the mobile devices into the platform. The system provides end-to-end encryption. There are various layers of access rights built into the system. Contractually, there are specific data protection clauses that the IFRC has drawn with the RedRose company. RedRose is GDPR compliant, meaning that it is compliant with the new European Union regulation for data protection. However, it should be noted that data protection is a joint responsibility of both the end users and the technology provider. How data is used, shared, and accessed should be done responsibly by authorized users. Click here for the IFRC's data protection policy.
How could a National Society join the IFRC's RedRose Global Framework Agreement?
The IFRC's Global Framework Agreement with RedRose allows Movement components to join the agreement and benefit from the global discount rates and negotiated terms and conditions by signing a Supplementary Agreement. This saves time and effort for NS to do their own full tendering process and negotiating separately with the vendor.
There is also non-exclusivity in the use of the platform and it's pay per use. If your NS does not use the platform to distribute, there is no cost to you. There is no cost to sign up for the Supplementary Agreement either. After joining the agreement, all financial dealings will be between the NS and RedRose. For more details, please contact the IFRC cash focal point in your region or the Geneva cash team.
Related documents/links:
---